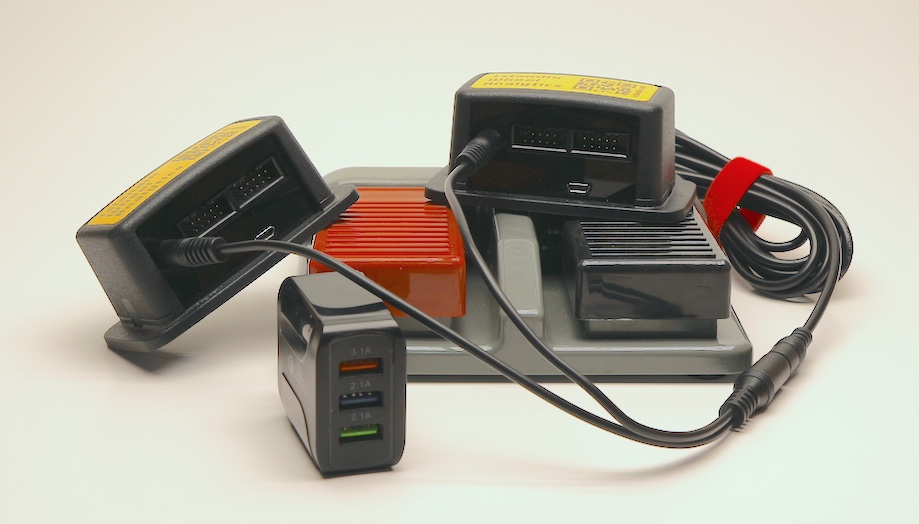 The Islandix WA-1 controller has two ports because that's the most common configuration — one port for the lateral indicator and one port for radial. It's the least expensive to produce, which makes transistor truing available to the most workshops.
If you want to true a disc rotor, you need to borrow one of the ports. If you want to compute tension statistics with your tensiometer, you need to borrow one of the ports. Normally this is no big deal.
Even so sometimes the busiest workshops want more than two. Instead of offering separate electronics with three ports and four ports, the Islandix solution is to deploy multiple WA-1 tools — as many as you like, when your needs require. The included USB power supply supports up to three already. And now there's a splitter cable that lets two controllers share one foot pedal. Sharing a pedal keeps your workbench simple and organized.
Currently a Wheel Analytics expansion kit is $299 CAD (approx. $219 USD, €199 EUR). It includes a WA-1 controller, foot pedal sharing adapter and USB cable. Includes worldwide airmail with tracking or upgrade to DHL for $19.
On necessity
The ability to build a workstation with more than two ports is a customer-requested feature and that's why it exists. We also think it's perfectly reasonable to use a tensiometer without a cable and without software most of the time — and this is the best way to get started. If you only need the extra port at the end of the build, swapping isn't too onerous. If you find yourself swapping often, the expansion kit may be for you.